Ainda estamos submersos pela onda regressiva que se formou com o início do reinado de Putin (2000) e com a queda das torres gêmeas (2001).
O coronel da KGB Vladimir Vladimirovitch Putin, membro do Partido Comunista (antes de 1991) e dos partidos Nossa Terra (1995–1999), Unidade (1999–2001) e Rússia Unida (a partir de 2008) é o mais perigoso agente antidemocrático que surgiu neste século. Na verdade ele é apenas o chefe ostensivo do governo de assassinos da FSB (ex-KGB) cuja política é reeditar a guerra fria e a política de blocos dos anos 60, pretendendo obrigar o mundo a retrogradar meio século para soerguer um império russo.
Pensava-se até agora que tudo isso não passava de pretexto para consolidar o poder interno da FSB (em aliança com os novos bilionários de Moscou) sobre a sociedade russa. No entanto, as características da ofensiva russa na Síria parecem indicar que a coisa pode ser bem mais grave.
É imprescindível, para os democratas, conhecer melhor o projeto de Putin (quer dizer, da FSB).
APRENDENDO DEMOCRACIA COM PUTIN
Há mais de 10 anos estamos denunciando que Putin é o chefe ostensivo do governo de assassinos da FSB (ex-KGB). Em agosto de 2016 saiu a tradução (pela Intrínseca) de mais um livro que relata casos concretos de perseguição, tortura e morte da Rússia neoditatorial do século 21. Trata-se de Alerta Vermelho (Red Notice) de Bill Browder (2015).
Bill Browder, fundador e CEO da Hermitage Capital Management, foi o maior investidor estrangeiro na Rússia até 2005, altura em que foi proibido de entrar no país. Desde 2009, tem conduzido uma campanha global para denunciar a corrupção e os abusos dos direitos humanos na Rússia. Devido à sua ação, em 2012 foi aprovada nos EUA a Sergei Magnitsky Rule of Law Accountability Act, lei que impõe interdições de vistos e congelamento de ativos a funcionários públicos envolvidos na morte de Magnitsky. Browder está neste momento empenhado em garantir que uma legislação semelhante seja aprovada na União Europeia.
O livro de Browder é mais um na série de textos para entender a instalação da ditadura na Rússia a partir do início do século 21. Como aprender democracia é desaprender autocracia, é uma leitura importantíssima.
A listinha básica sobre o uso da democracia contra a democracia (tomada como regime eleitoral baseado no voto da maioria) vai crescendo. Substituindo os clássicos golpes de Estado dos anos 60 e 70 do século passado, a via Putin constitui hoje a nova ameaça à democracia que precisa ser estudada. Não falta literatura, como mostra o quadro abaixo: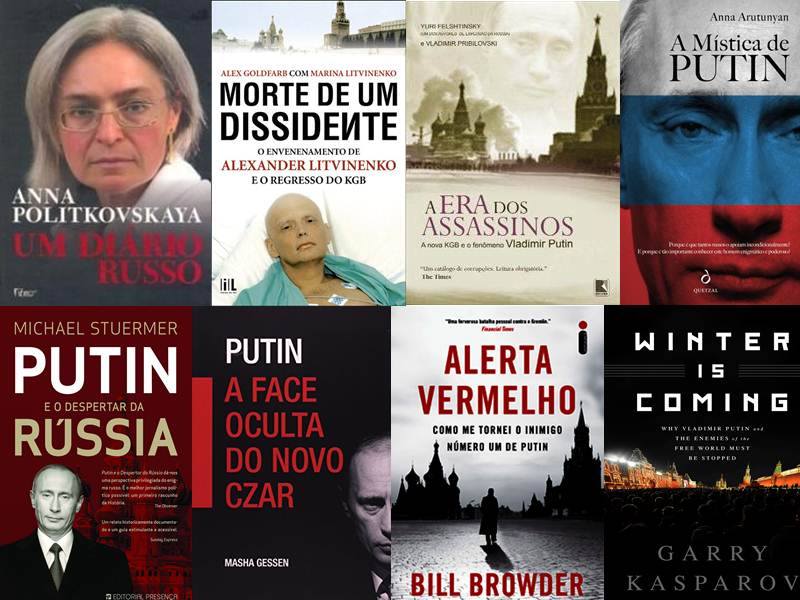 Existem também vários artigos, publicados ou republicados aqui em Dagobah, que ajudam a entender Putin: Desvendando Vladimir Putin, no qual reproduzo um post de Michael McFaul (The Washington Post, 06/02/2017) é um deles. Outros, igualmente importantes, são: A versão dos agentes da guerra fria sobre o "golpe" no Brasil,  O filósofo mais perigoso do mundo e A democracia sob ataque terá de ser reinventada.
THE WINTER IS COMING
Agora temos a crise Síria. Mas ela não começou hoje, com os 59 Tomahawk de Trump. Desde o final do ano passado (2016) já era inacreditável a mobilização dos tolos para desacreditar as denúncias contra a dupla Assad-Putin. Mesmo que os vídeos que circulam pela internet tivessem sido filmados por grupos jihadistas em luta contra Bashar al-Assad, mesmo assim, o centro das denúncias continuava sendo válido.
A dinastia Assad, de Hafez e seu filho Bashar, vem praticando genocídios na Síria há décadas. Em Homs, em Aleppo e em várias outras cidades. O fato de não concordarmos com os grupos islâmicos do jihadismo ofensivo que combatem os Assad, não pode nos levar a defender a ditadura.
Tudo começou com manifestações pacíficas da sociedade civil síria, em janeiro de 2011, nas ruas de Damasco e de várias outras cidades, contra a ditadura de Bashar. Quando percebeu que a insatisfação da população poderia apeá-lo do poder, o ditador instalou uma guerra. A guerra foi o meio encontrado por ele para matar a rede social. A sociedade civil síria rejeita os Assad, e não é de hoje. A situação piorou quando Putin percebeu que incrementar a guerra Síria – sob o justo pretexto de combater o Estado Islâmico – se encaixava como uma luva no seu objetivo de reforçar uma posição estratégica no Oriente Médio (onde a Síria sempre foi seu tradicional aliado) e, ao mesmo tempo, reeditar a guerra fria.
Putin mobilizou então todos os esforços dos aparatos de inteligência, informação e segurança do regime russo (hoje uma ditadura) para tentar demonizar os adversários de Assad. E isso deu certo durante um tempo. Não faltaram basbaques – e analfabetos democráticos – para repetir a narrativa segundo a qual todos que se opunham à ditadura de Assad eram jihadistas e esquerdistas que não estariam fazendo mais do que servir à estratégia de Obama. O recente trumpismo, abraçado por idiotas que se dizem de direita e anticomunistas, também ajudou a criar o clima de guerra fria tão desejado por Putin.
A VOLTA DA GUERRA FRIA
Não se pode ainda afirmar que o mundo vai mergulhar novamente na guerra fria dos anos 1960-1990. Mas já se pode dizer, sem sombra de dúvida, que estamos mais próximos disso, depois das idas e vindas de Donald Trump, entre tapas e beijos com Vladimir Putin e, agora, com o bombardeio à Síria. Uma coisa parece certa: acariciando ou trocando pontapés com Putin, Trump, com seu populismo, vai nos levar para o passado.
O fato é que a brusca mudança de posição de Trump em relação à Síria, deixou os analistas perplexos, sobretudo os que se dizem liberais e aderiram, desde a primeira hora, ao trumpismo (o que, em si, já deveria ser um absurdo ou uma contradição em termos, não estivessem tais "liberais" mais ocupados em ser anticomunistas ou anti Nova Ordem Mundial do que em expandir a esfera das liberdades e defender a democracia). Vamos tomar como exemplo, recente post no Facebook, de um desses nossos "liberais", chamado Alexandre Borges, um cara até bem razoável:
Trump e Síria: apoiado por inimigos, atacado por seguidores e pela alt-right. O que sabemos até agora:
– Alguns dos mais ferrenhos críticos de Donald J. Trump estão apoiando a ação na Síria: Hillary Clinton, muitos democratas, a "comunidade internacional", John McCain, Marco Rubio e diversos Never Trumpers como Ben Shapiro.
– Apoiadores que continuam apoiando: os comentaristas da Fox News, Mark Levin, Laura Ingraham, entre outros.
– Alguns dos mais fiéis apoiadores de Trump não estão apenas criticando, estão berrando que tiraram seu apoio. Wikileaks também está contra.
As motivações dos críticos são diferentes, por isso não caia no erro de avaliar toda a oposição em bloco.
1) Os "russos"
A turma do InfoWars (Alex Jones e Paul Joseph Watson) está radicalmente contra, é o lado mais histérico. Watson berrou que está fora do barco trumpista oficialmente. O site é normalmente acusado de ligações com a Rússia e sua oposição instantânea e destemperada reforça as suspeitas.
O Wikileaks, outro que é sempre visto como serviçal dos interesses russos, também está radicalmente contra e pelo mesmo motivo: Trump teria sido enganado pelo complexo militar e pela burocracia governamental.
Outro que costuma estar contra a política externa intervencionista americana e ser associado aos russos é Ron Paul. Sua posição contrária não é surpresa para ninguém.
É uma crítica que lembra os tempos da Guerra Fria quando toda ação militar americana era alvo dos porta-vozes da URSS na imprensa ocidental.
– [Update] Alex Jones e Watson mudaram o tom, continuam dizendo que é "false flag" mas ainda estão com Trump
2) O Estrategista
Scott Adams, o analista com o maior índice de acertos quando o assunto é Trump, previu o ataque e acredita que tudo não passa de um jogo de cena.
Ele acredita que Assad não é o responsável pelo uso de armas químicas, que foi tudo armado para justificar a ação militar, que também seria "fake", ou seja, algo apenas para unir o país internamente e parecer durão para o mundo.
A capacidade de Scott Adams de prever o futuro é algo realmente espantoso. Qualquer um que queria saber o que vai acontecer deve ficar ligado no que ele diz.
O curioso é que Adams parece aprovar o ataque, mesmo considerando que a motivação foi forjada.
3) O Estatístico
Nassim Nicholas Taleb não está convencido de que Assad usou armas químicas nos últimos dias. Ele alega que está analisando as probabilidades e que é muito difícil acreditar que Assad cometeria um erro tão óbvio.
Taleb assume a posição de que analistas sérios e isentos ainda não possuem informações suficientes para ter certeza do que aconteceu e que todos podem estar sendo enganados pelas aparências. Ele recomenda cautela e racionalidade neste momento.
4) Os Conspiracionistas
O imprevisível e polêmico Mike Cernovich, que coleciona acertos admiráveis mas também tiros no escuro, é outro que acha que Trump caiu numa armadilha e está contra.
Cernovich está sempre circulando teorias e versões de fontes não reveladas e é preciso um certo ceticismo sobre o que ele fala, mas é um comentarista que merece sempre atenção.
5) Os Isolacionistas
Ann Coulter está revoltada por achar que Trump está destruindo a própria presidência ao tirar o foco dos problemas internos. Seu foco obsessivo pela imigração explica.
Stefan Molyneux também está contra. Ele costuma estar alinhado com os isolacionistas quando o assunto é intervenção militar americana e desta vez não foi diferente.
O Breitbart, que serve de porta-voz para Steve Bannon, também está contra. A motivação ainda não é clara.
Ainda está cedo para certezas. Taleb tem toda razão ao sugerir que a melhor postura no momento é de prudência.
É uma pena ver o desespero de muita gente em se posicionar de forma definitiva, de ser o farol em meio ao maremoto, e por isso acaba abraçando qualquer teoria desde que ela ajude a fazer seu propagador soar como alguém que "sabe das coisas".
Uma má notícia aos sabichões: neste momento, ninguém pode ter certeza absoluta de nada. Quem falar que tem é mentiroso, iludido, inocente ou louco.
Vamos acompanhar.
Compartilhei e reproduzi o post acima menos pelas informações colhidas sobre a opinião de atores políticos que costumam ou costumavam ser trumpistas (o que, de resto, é sempre útil) e mais pelas impressões desconcertantes… Pois ao contrário do que diz o perplexo autor, há algo, sim, que já se pode afirmar e que é trágico.
Não tem nada a ver com bola de cristal, conspiracionismo, previsão de guerra (quente) e outras bobagens. Se os russos não estão fazendo jogo combinado (e isso é muito improvável), estamos agora mais perto da guerra-fria: o sonho dourado de Putin e da FSB.
O papel da análise política não é adivinhar. A inteligência democrática estabelece conexões e reconhece padrões (mas é preciso entender o que é inteligência democrática). De qualquer modo a paz mundial sai arranhada (mas atenção: para entender o que é paz é preciso saber que guerra não é conflito violento). E a democracia (que inexiste como modo político de administração das relações entre Estados no plano internacional, mas continua intermitentemente presente como processo de desconstituição de autocracia, onde quer que ela se manifeste) idem. Sim, vamos acompanhar. Mas sabendo que estamos na antessala da imensa regressão que se prefigurou com o dealbar deste século 21. Se vamos ser sugados pelo buraco negro da autocracia é outra questão.
A ascensão do império russo (com a FSB e seu chefe ostensivo Vladimir Putin), a expansão do jihadismo ofensivo islâmico, com o surgimento mais recente de organismos sociais malignos, como o Estado Islâmico e a remanescência de 60 ditaduras no mundo (grande parte delas islâmicas), sob as quais ainda vive mais da metade da população do planeta, indicam que não é tão despropositada a sombria previsão de Jane Jacobs (2004) em um dos seus últimos escritos: Dark Age Ahead.
RECONHECIMENTO DE NIGREDO
Sempre fui (a partir dos anos 90) um grande leitor e admirador de Jane Jacobs (1916-2006). Tomei-a como uma das bases do meu livro Capital Social: leituras de Tocqueville, Jacobs, Putnam, Fukuyama, Maturana, Castells e Levy (2001). Mas dois anos antes de morrer ela publicou um livro surpreendente, intitulado Dark Age Ahead (2004).
Jane não era pessimista, ao contrário do que sugere o impressionante título desse seu último livro. Paul Goldberg (2006), no New Yorker, escreveu o seguinte sobre ele: "a despairing look at the state of things, and like everything Jacobs wrote, it is a curious combination of plainspoken common sense based on simple, empirical observation of the world around her, and broad generalizations about the nature of cities and cultures".
Não vou entrar agora nos indicadores que ela escolheu para tão sombria previsão (ou diagnóstico): nem aí para o bem-estar da comunidade (consumismo irresponsável), ensino superior de má qualidade (universidade fábrica de diplomas), ciência ruim (promoção da economia a uma espécie de pan-ciência supostamente capaz orientar decisões políticas), governo péssimo (spoil system), cultura lamentável (insustentável). Eu não escolho os mesmos indicadores, mas concordo totalmente com o seu alerta contra a ideologização do mundo (independentemente da posição no espectro político de onde vem a ideologia).
Dez anos depois do passamento de Jacobs, o crescimento do jihadismo islâmico ofensivo e as fortes tendências antiglobalização – no próprio islamismo (essa foi a base da base: da Al Qaeda), na Rússia de Putin (com suas tentativas de reeditar a guerra fria e a política de blocos), mas também em países como os Estados Unidos (com o surgimento de um impensável Trump adotando como lema "America First": a palavra de ordem dos isolacionistas americanos antes da Segunda Guerra Mundial, que é basicamente antiglobi) e na Inglaterra (com o Brexit) e, sobretudo, o aumento do número de ditaduras (que chegam agora a 60, com a recente inclusão de Rússia, Venezuela e Turquia) e de regimes democráticos formais em processo de autocratização (como Bolívia, Equador, Nicarágua, El Salvador), a degeneração completa da política com a volta da praga do populismo na América Latina e da corrupção sistêmica (com o lulopetismo e, antes, com o kirchnerismo, subversores da democracia) – tudo isso aponta, de fato, para uma perigosíssima ideologização do mundo.
Depois daquele vento fresco que soprou após a queda do Muro de Berlim e a derrocada da União Soviética (a World Wide Web, a emergência de um Terceiro Setor e tantas outras inovações sociais que caracterizaram os anos 1990), o mundo – sobretudo por força das reações unilateralistas ao atentado ao World Trade Center, em 2001 – parece ter enveredado para o demoníaco. Velhos fantasmas voltaram a nos assombrar e o dealbar do século 21 não confirmou nossas grandes esperanças.
Sintonia de Sense8s: escrevi sobre isso em 2003 (no folheto Três Gerações de Políticas Sociais e em várias Cartas DLIS), sem saber que Jacobs estava escrevendo, simultaneamente, algo muito parecido; ou melhor, não tão parecido, mas motivado pela mesma antevisão ou sensação geral.
Tudo indica que caminhamos para uma nova Idade Média. Mas não considero que seja, como apontou Jane Jacobs no ocaso da vida, uma Dark Age apenas na acepção negativa do termo. É dark, sem dúvida. Mas também no sentido daquela operação que os velhos alquimistas chamaram de nigredo (sem a qual não pode haver albedo, nem rubedo). É um tempo de gestação de novos padrões societários (e poderíamos até dizer civilizatórios, se a palavra civilização não estivesse tão geneticamente identificada com militarização, quer dizer, com hierarquização). O grão, como se sabe, germina na escuridão (e tem que apodrecer – morrer – para germinar). E durante algum tempo (como na parábola evangélica) cresce mesmo escondido.
Foi, aliás, o que ocorreu na Idade Média. O que viemos depois a chamar de ciência (juntamente com todas as inovações do Renascimento), por exemplo, foi gestado meio subterraneamente durante quase um milênio de escuridão ou escondimento.
Eis o momento em que estamos. Em que poderosas forças subterrâneas – vertiginosos fluxos interativos da convivência social que ainda não aparecem á luz do dia – estão gestando os novos mundos-bebês. Mas eles não poderão nascer sem o estilhaçamento do mundo único, que teima em remanescer porque ainda não se completou o seu processo de apodrecimento.
Não há esperança de que o mundo, como um todo, consiga furar essa onda no curto prazo. Até porque os centros de poder do mundo único, como os USA, entraram também em crise (e a decadência do Partido Republicano e do Partido Democrata, permitindo a ascensão de um maluco como Trump, é apenas uma evidência da desestruturação do velho modelo de governança baseado no equilíbrio competitivo entre menos de 200 unidades guerreiras chamadas de Estados-nações).
O ambiente global vai ficar mais degradado e mais avesso à liberdade. A coisa só não será pior porque o mundo único está se estilhaçando com o dealbar de uma sociedade em rede. E poderemos escapar para os arquipélagos formados, no espaço-tempo dos fluxos, pelas novas ilhas na rede. Mas… atenção: somente enquanto essas ilhas durarem. Isso significa que viraremos nômades, navegando de ilha em ilha, de bolha em bolha, num mar coalhado de ameaças estatistas tenebrosas. Ninguém poderia mesmo esperar que a atual mudança de época, representada pelo declínio de seis milênios de civilização patriarcal, seria tranquila como um passeio pelos jardins dos amanhãs que cantam. É o Estado – esse tronco gerador de programas patriarcais verticalizadores – que está reagindo.
Mas o Estado é, de certo modo, uma abstração. Neste exato momento, a ameaça da regressão estatista tem um nome concreto: Vladimir Putin. Se ele será ajudado por Donald Trump é a grande questão. Mas, atenção: se Trump combater Putin e não destruí-lo estará ajudando-o. Trump vai ajudar o projeto de Putin na medida em que transformá-lo em inimigo para alimentar a guerra fria. É só isso que Putin quer, não a guerra quente. Ele precisa desesperadamente de um grande inimigo do outro lado (atlântico) do mundo. Para manter sob seu domínio o sonhado mundo eurasiano neoimperial.